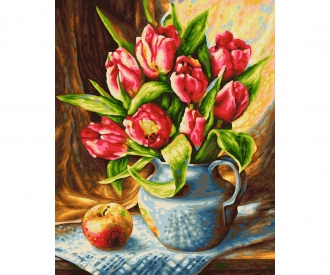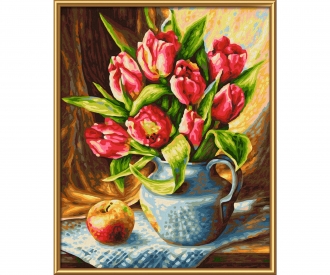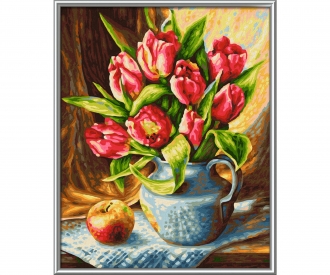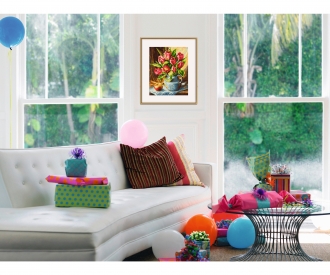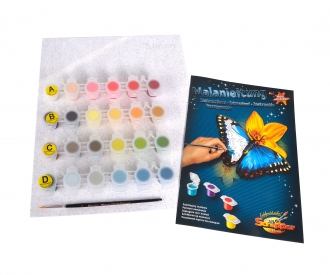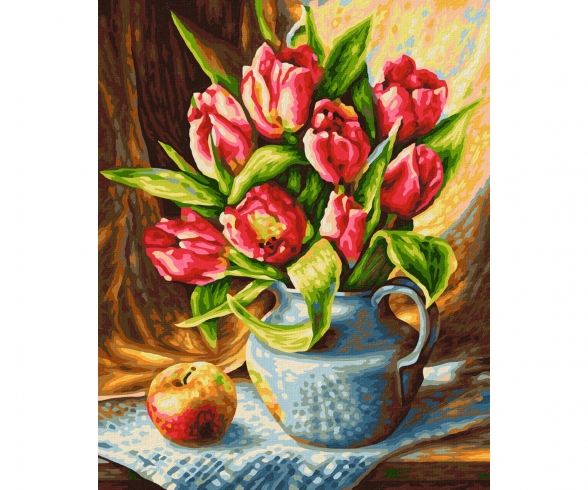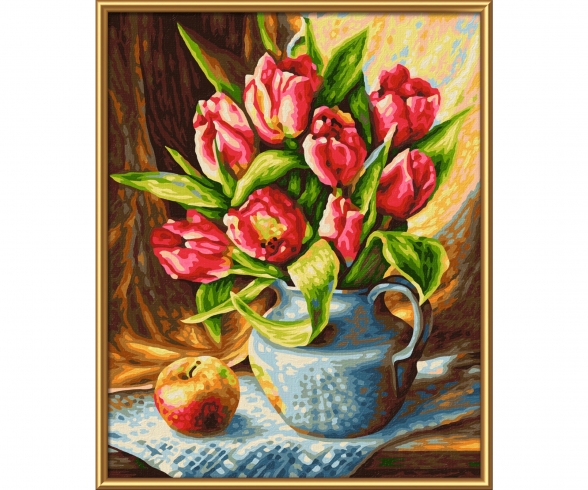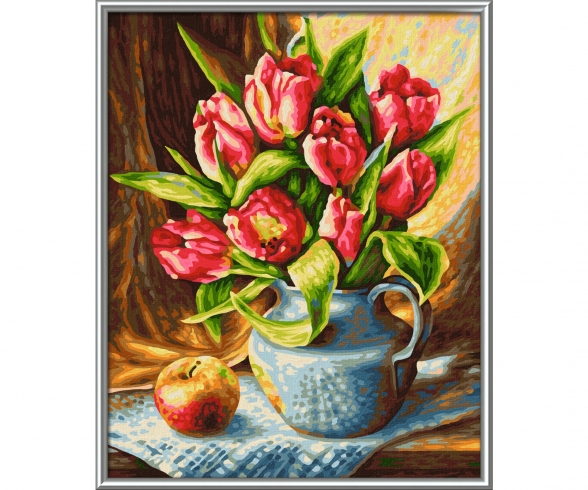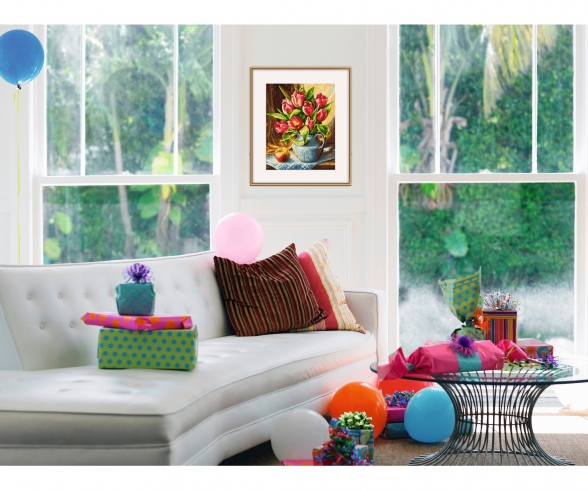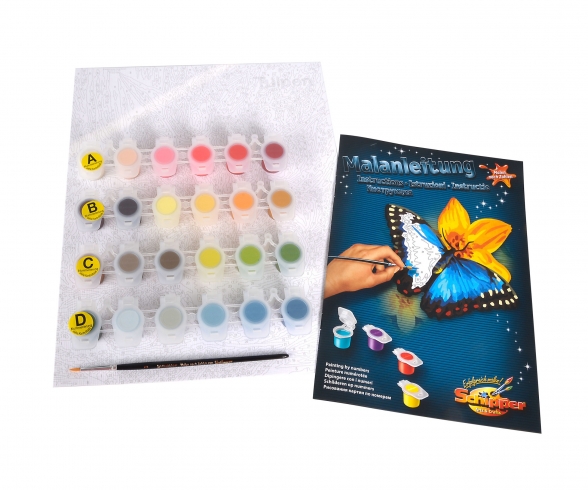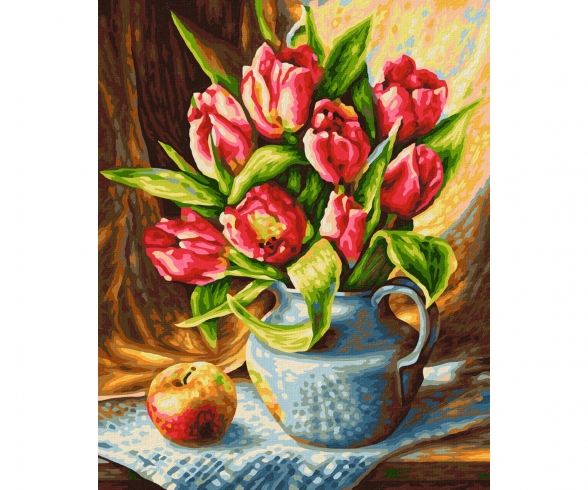 Quantity:
1
2
3
4
5
6
7
8
9
10
11
12
13
14
15
16
17
18
19
20
21
22
23
24
25
26
27
28
29
30
we will pass on the reduction in VAT to you with an automatic discount in the shopping cart.
...........................................................................................................................
I
Il soggetto: "Mazzo di tulipani"
50 anni di DIPINGERE CON I NUMERI di "SCHIPPER" (1969-2019)
Con i suoi ameni soggetti paesaggistici e floreali la collezione CAPOLAVORI classici ricorda gli inizi del "Dipingere con i numeri" negli anni '60. Si tratta di soggetti che hanno fatto il successo di questa nuova tecnica pittorica e sono ancor oggi tra i temi più amati degli artisti per hobby. Sotto il titolo "Dipingere e collezionare bei quadri" SCHIPPER propone scene dal tocco retrò nel formato allora consueto 24 x 30 cm: sarà semplicemente un piacere dipingerle!
Mazzo di tulipani
Arrangiato in un'elegante brocca di ceramica il mazzo di tulipani si presenta in tutto il suo splendore con il rosso vivo dei boccioli e il tenero verde chiaro delle foglie. Dopo un lungo inverno sono proprio questi amati messaggeri di primavera a portare di nuovo freschezza e colore nella vita tutti i giorni. "Mazzo di tulipani" è un soggetto senza tempo per qualsiasi amante dei fiori.
Misura del q'uadro e supporto per la pittura:
"MEISTERKLASSE i Classici". Per i dipinti in formato 24 x 30 cm si possono usare le cornici a giorno comunemente reperibili in commercio a prezzo conveniente, ad esempio nei negozi di bricolage. Per creare una piccola pinacoteca personale si possono appendere raggruppati con gusto ottenendo un bell'effetto decorativo. Il supporto per la pittura ha una struttura simil-lino, percepibile alla vista e al tatto, che non migliora soltanto di molto l'aspetto generale del quadro finito, bensì ne sottolinea anche il carattere pittorico suggerendo il desiderato effetto "olio su tela".
La confezione contiene:
Pannello in cartone robusto con struttura simil-lino 24 x 30 cm. Traccia dai contorni precisi con numeri ben leggibili. Colori acrilici a base di acqua (non serve mescolarli tra loro). Pennello sottile. Foglio di controllo e istruzioni dettagliate per un ottimo risultato.
...........................................................................................................................
NL
Het motief: "Tulpenboeket"
50 jaar SCHILDEREN OP NUMMERS van "SCHIPPER" (1969-2019)
De serie MEESTERKLASSE klassiekers herinnert met lieflijke landschaps- en bloemenmotieven aan de beginperiode van "Schilderen op nummers" in de jaren zestig van de vorige eeuw. Het zijn motieven die deze schildertechniek tot een succes hebben gemaakt en zij behoren ook nu nog bij alle hobbyschilders tot de populairste schilderonderwerpen. Onder de titel "Mooie schilderijen maken en verzamelen" brengt SCHIPPER retromotieven in het destijds gebruikelijke formaat 24 x 30 cm uit, die gewoon leuk zijn om te schilderen.
Tulpenboeket
In een stijlvolle stenen vaas ontvouwt dit tulpenboeket zijn volle pracht door de stralend rode kleur van de bloemen en de tere lichtgroene bladeren. Vooral tulpen zijn een populaire lentebode en brengen na een lange winter weer frisse kleuren in het dagelijks leven. "Tulpenboeket" – een tijdloos motief voor elke bloemenliefhebber.
Beeldformaat en schildervoorbeeld:
"MEESTERKLASSE Klassieker". Schilderijen in het formaat 24 x 30 cm passen in gebruikelijke wissellijsten, die in bouwmarkten voordelig te krijgen zijn. Voor een kleine schilderijenverzameling kunnen zij fraai worden gegroepeerd en decoratief opgehangen. Het schildervoorbeeld heeft een voel- en zichtbare linnenstructuur. Daardoor wordt het schilderij uiteindelijk niet alleen mooier, maar het geschilderde karakter van de afbeelding wordt onderstreept en het gewenste "olie-op-doek-effect" ondersteund.
Inhoud van de verpakking:
Stevig schilderkarton met linnenstructuur 24 x 30 cm. Exacte contourtekeningen met goed leesbare getallen. Acrylverf op waterbasis in verschillende kleuren. Verf mengen niet nodig. Fijne schilderspenseel. Controleblad en uitvoerige instructies voor succesvol schilderen.

Warning! Not suitable for children under 3 years due to small parts. Choking hazard!
Frequently bought together
Frequently bought together